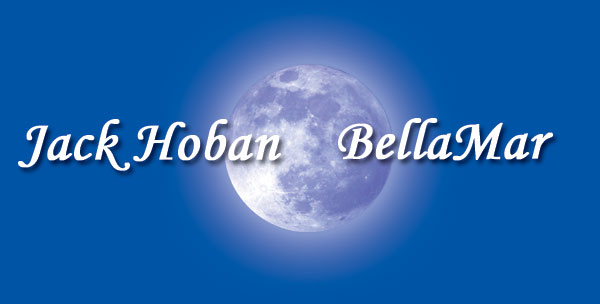 Home | Music Samples | Lyrics | Bio | Appearances | Buy CD | Press Kit | Links |
---
BellaMar - The Album
Hi everybody. Thanks for your interest in my songs about, and inspired by, the sea. I have always loved the ocean and have had the good fortune to swim in many of them. The call of the waves is deep in our human psyche, but often forgotten except at vacation time. I hope this music allows you to feel it all year long.
Jack
---
1. BellaMar -

Sample
Words & Music – Jack Hoban

BellaMar is a fictional place, actually a romanticized version of a shore town near where I live. It is a simple song about love and decisions.

I see you hesitate
Wait for your head to clear
But your heart is flying
Deep into my eyes tonight
Tonight
You have things to think of
Someone else who cares
But he'll never love you
Half as much as I love you
I love you

And the sun is setting
On an azure sea
BellaMar

Come to your balcony
The stars are waiting for you
The sea is calling (calling)
And I am calling for you too
For you too

And the moon is rising
From a deep blue sea
BellaMar

And it's now or never
Sail away with me
We don't need a suitcase
We have all we need
Sail away with me on this
Beautiful sea.

And the moon is setting
On a midnight sea
BellaMar
---
2. Halfway To The Moon

Sample
Words & Music – Jack Hoban

We have become so wealthy, many of us, that we are insulated artificially from the realities of the important things—life, death, love. I know many people who live in a near perfect world with every material and social comfort, yet feel that they are missing something very fundamental in their lives. And I have met destitute (from our standards) Indian families living deep in the rainforest who don't suffer this ennui and are much happier than most of us.


Moonlight on the sand
Woman looks at man
There is a tranquil sea
Only vintage wine
The music is sublime but
They have separate dreams
Comfort has a cost
Something's always lost
Taking the easy street
You lose a beat
Candles are all lit
But something doesn't fit
And they sigh...

Halfway to the moon
They fell in love too soon
They could have reached the stars
But they were way too far
Hastening romance
They should have learned to dance
Will love stay
Halfway
To the moon

From the day they met
Everything was set
Their lives made perfect sense
A million stars above
But so few words of love
Not in the present tense
Passion not required
Why should they get mired?
In all that sticky stuff
When form's enough
And so they go to kiss
But something is amiss
And they sigh...
---
3. Counting Waves
Words & Music – Jack Hoban

The Girl From Ipanema by Carlos Antonio Jobim is my favorite song. Counting Waves is a shameless and inadequate attempt to borrow the story and say it my way. This is truly a case where imitation is the most sincere form of flattery. Obrigado, Senhor Jobim.


I can see her in the moonlight
Sitting on the shore adrift in memories
Her thoughts are not of me
There are times I have to wonder
How she makes it from the day into the night
Without a plan in sight

I can see her eyes gazing out to sea
And I see her hair waving in the breeze
Her absentminded smile that is not for me
She's busy counting waves
Busy counting waves

If somehow I could finesse it
I'd intrude into her wistful reverie
And make her notice me

I can see her toes playing in the sand
And I see her face so soft and tan
But her mind's a million miles from land
She's busy counting waves
Busy counting waves
---
4. Living Loving You
Words & Music – Jack Hoban


This song is for two friends who found true love with each other relatively late in life. Some things are worth waiting for. I wish them the very best.

All those nights I spent alone not by myself
Lighting candles for nobody
I was laughing with the other lonely souls
I was thinking I was happy
But this is happy

Living Loving Loving You
Living Loving Loving You

You don't know just what you've missed until it comes
Screaming' right around the corner
Tearing shreds into your tidy little life
And you know that you'll adore her
And I adore you

Living Loving Loving You
Living Loving You Loving

Building houses on the river by the sea
Watching sunsets with each other
Daring dreams that would hurt too much alone
Love is now our home.

Living Loving Loving You
Living Loving Loving You
---
5. Jamaica (featuring Ed Stanojev)
Words & Music – Ed Stanojev & Jack Hoban

Eddie Stanojev is the kind of friend you can only make when you are young and open. We have been like brothers for many years since we played together in the band "Windfall" in college. We wrote this song long ago (actually he wrote it, I just added the bridge). We finally had a chance to record it and I am pleased to be able to introduce you to his beautiful voice and tasty guitar playing.


I'm going back to see her
Oh, Jamaica
Jamaica, I've missed you everyday
Wanna run along the beach when I get lonely
Feel the sun
Warm upon my face

Got my suitcase packed
Its time to say goodbye
Then off again I'll fly

Oh, Oh Jamaica

When I get home
I'll feel the wind blow through my hair
It will feel so fine, when I get there
It's been a year or so
Don't think I could forget you
Its been raining in my heart every day of that year

A time and a place
And a moment
I wrap it up inside my memory

Goin' down to the sea
Just my baby and me
Like two birds flying free
We'll soar together
Come along for the ride
With your dreams by your side
I know just where we can hide
Hide, in Jamaica

A time and a place
And a moment
So off again, let's fly.
---
6. Change Your Mind
Words & Music – Jack Hoban

This song is an ode to good love and bad timing. It probably sounds like it was her fault, but it really was his. Or no one's. Just one of those things that happen in love—but leave that "unfinished" feeling that lingers for all of your life.


Don't you know that
I remember
What you told me
Many years ago
Or was it yesterday
You were crying
In my driveway
And I knew how dangerous we'd be
With our separate ways

But we said that
Love's forever
And when I looked into your eyes I knew
Nothing in the world
Would ever change your mind

But we see that
Time can change us
We're both older
But so much the same
God time goes so fast
We have lives now
And commitments
All those dreams are fading memories
Echoes of the past

We said love was
For forever
But when I look in your eyes I see
There may come a time
When you will change your mind

Our lives are
Trails of moments
Our nights were
Meant for forever
When we kissed and time stood still for us
I think you
Never knew it
But one night
I died inside for us
Cause it was in your eyes
That you would change your mind

We thought love was
For forever
But when I look in your eyes I know
That the time has come
And you have changed your mind
---
7. Four Days (Four Nights)

Sample
Words & Music – Jack Hoban

Pete "finger in the nose" Morgan where are you? Pete and I shared an apartment together in San Diego when I was in the Marines. We took quite a few trips to Mexico together, although this was a bit perilous for Pete. As I recall, he was on the run from some Mexican politician whose daughter Pete had left at the altar—I think that was the story. It makes me wonder if that was his real name. Anyway, Pete just couldn't stay out of Baja and I was his witting accomplice. This song is in memory of those crazy days. I miss you, Pete, and the Sunday morning eggs and scallions washed down with Piña Coladas listening to Fats Waller.


At first I thought it so enlightening
Now I think it rather frightening
I never thought I might have to throw this race
One I got is rather choosy
The second one's a real floozie
Three's got the body and four's got the face

Four days Four nights
Four women to hold me tight
I've got a one-way ticket to paradise
But the ticket is stamped for two
Now what am I gonna do?

I thought myself a normal man
So how did I get in this jam
I guess I went and spread myself a bit too thin
The picking process starts to stump me
To stay alive I'm gonna have to dump three
I shudder at the mess I've gone and got me in

Four days Four nights
Four women to hold me tight
I've got a one-way ticket to paradise
But the ticket is stamped for two
Now what am I gonna do?

And I know that my situation seems sad
But I wonder if it's really all that bad
I know I may get killed but what a way to go
So I'm living in the eye of a hurricane
I function with a brain that is barely sane
But I get way more nookie than the average Joe

Four days Four nights
Four women to hold me tight
I've got a one-way ticket to paradise
But the ticket is stamped for two
Now what am I gonna do?
---
8. Secrets
Words – Jack Hoban; Music – Jack Hoban & Mario Cicerello

Written for my parents who raised five children and then disappeared into the tropical sunset. Still in love after fifty years. God bless them!


Secrets
In the moonlight
Kisses
By the sea
Walking
On a sandy silver beach
Lovers
You and Me

Remembered resonations
The moment we first met
I know I recognized you
When or where, I forget

Looking in your eyes a
Panoramic view
Waiting for the music
Whispering to you

Again we would be lovers
Again we will be friends
Until the end of time we circle
Over and over again

Secrets
In the moonlight
Kisses
By the sea
Walking
On a sandy silver beach
[Toasting
With a smoky Cabernet]
Lovers
You and Me
---
9. Bossa Nova Blues -

Sample
Words & Music – Jack Hoban

Can't get away from that Ipanema girl. I often wondered what would have happened if she did turn around. Be careful of what you wish for!


Tall and tan and young and lovely
She stole my heart; she stole all my money
And now I got nothin' left to lose
Broke and broken hearted
Got the bossa nova blues

She had all the moves, we danced the rumba
I loved her madly, she had my number
That's why I'm drinkin all this booze
Stuck down here in Rio
With the bossa nova blues

Bridge:
How did this all end so sadly
Never should have told her I loved her
But I wanted her badly
So I followed her down to the sea
But the biggest fish in there was me

Pursued by the law my passports expired
Don't got a job so, I can't even get fired
But, friend, its the life I chose to choose
Some lady just asked me
To dance the bossa nova blues
---
10. Down By The Shore
Words & Music – Jack Hoban

Autumn at the ocean. Summer loves have come and gone. Nothing left but bittersweet memories. Maybe the second saddest song I have ever written. Inspired by one of my favorite writers, Chris Rea, who has written many poignant songs with an ocean theme.


Destiny, meeting you was that for me
Golden youth, the luck of a fool
Oh how we danced, whirling our lives away
Oh how we loved, down by the shore

Holding you, could make a dream come true
Flashing eyes, no perception of time
Me kissing you, was like a miracle
You kissing me, down by the shore

Down by the shore
We lost our innocence
The arrogant confidence
Of a long summer's night
Down by the shore
We knew the sands would shift
Yet set our hearts adrift
They sailed out of sight

Seasons change, so uncontrollably
One day it's spring, the next the leaves fall
I glimpse the light, of an open bar
And I wait for you, down by the shore
---
11. Christmas With You
Words & Music – Jack Hoban


Christmas on Okinawa 1978. I was one homesick young man when I originally wrote this. With the help of my talented friend Randy Ledet, the song now feels less lonely and more hopeful. We all need hope, especially during the Holidays. Thanks, Randy—and Merry Christmas to you!

There'll be millions of snowflakes
And the tinkling of bells in the air
And the trimming of trees
And the stringing of lights everywhere
And the rosy red cheeks
And the greens just too green to be true
And they're all in my mind
As I dream about Christmas with you

Plans that were never made
Cause we knew that they'd always come true
Each vigil the same
But always incredibly new
And the fire still smells good
And I still sing the songs out of tune
But they all sound O.K.
In my dreams about Christmas with you

There's a Christmas party
At the home of Farmer Gray
I won't swear to it
But that is what I thought I heard the snowman say
Oh how I'd love just to walk out that door
Into our winter wonderland
That just not out there any more

So I promise to pray
And I promise to wish I were there
And I promise to make it through Christmas
Even though it's not fair
And I'll be there next year
Even if it's the last thing I do
But for now I'll just lie here
And dream about Christmas with you
And I won't feel so bad
If I dream about Christmas with you
---
The Musicians:
Jack Hoban - Vocals, Guitars, Synthesizer, Drum Programming
Randy Ledet - Keyboards
Ed Stanojev - Vocals, Guitar
Mario Cicerello - Keyboards
Wayne Gronberg - Bass
Wendy Reizer - Vocals
Tommy La Bella - Saxophone
Jason Furman - Drums
Jason Rosner - Bass
---
Published by Running Rogue Music
PO Box 652
Spring Lake NJ 07762 USA

Cover photo: Jessica Morrisy
Inside photo: Don Smith
Artwork: Eric Phillips, Carl Laurence, and Jack Hoban
Mix: Gary Bosko at PIVOT Entertainment Hollywood, FL

Special thanks: Randy Ledet, Eddie Stanojev, Mario Cicerello, Wayne Gronberg, Rob "Bubba" Sozanski, Tommy La Bella, Gary Bosco, Frank "SweetPea" Butler, Wendy Reizer, Bernard "Pretty" Purdie, Kathy Baylor, George Schumacher, Paul Fisher, Jan Anszperger, Kenny Conroy, Jim Morrisy, Uncle Buck, Gene Boccia, "Mr. Joe" Tenaglia, Kenny-Logan Feld, Eric Phillips, Carson Cox, Tracie Orsi, Larry Paruta, Dr. Bob Edelhauser, Dennis Bourke, Yumi, Dan, Sean, and Rogues and Roguettes everywhere. This album was inspired by Sea Girt, New Jersey; Spring Lake, New Jersey; Bolinas, California; Calafia, Mexico; and a few dozen other places, too. This album was conceptualized at the Tarpon Lodge in Pine Island, Florida after a night of sampling rums with Doc Ford.

Thanks, again!
Jack
---
© 2006 Jack E. Hoban, All Rights Reserved
All Songs ASCAP
Published by Running Rogue Music
PO Box 652
Spring Lake NJ 07762 USA
Website: www.jackhoban.com